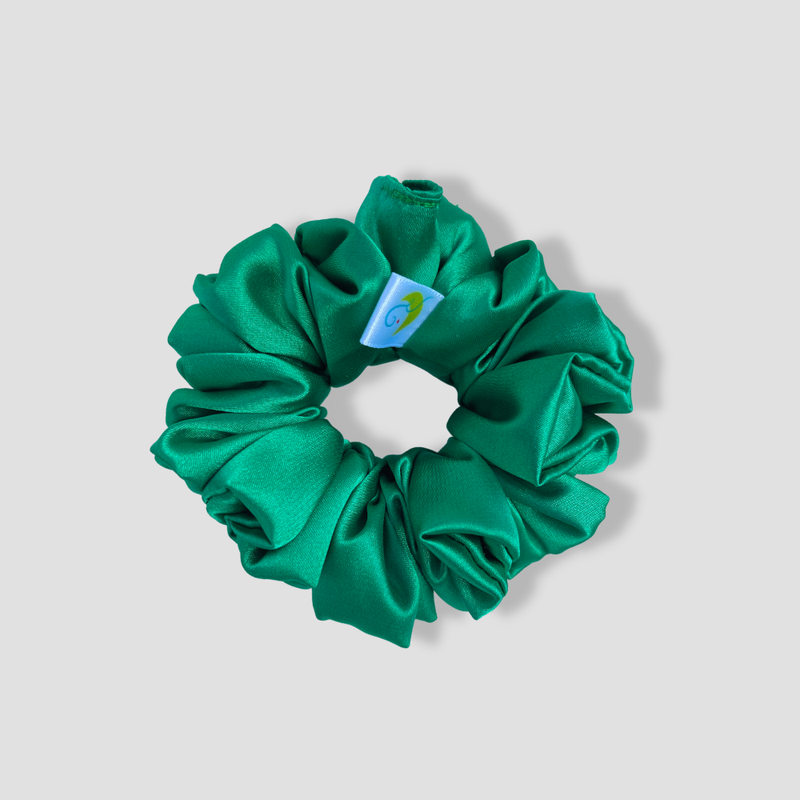 Jade
In stock
Jade Scrunchie - Beautiful Handmade Green Scrunchie!
Holds your beautiful locks in place without removing moisture or straining your strands. This Jade Green Scrunchie is made out of a soft, beautiful satin fabric-a personal favorite of ours. This scrunchie is gentle on your strands and looks beautiful no matter where you go or what you're wearing! It also goes great at family gatherings, going out with friends, wearing to show school spirit, going to costume parties, and anywhere else you want to wear it!
Fun Fact: The name was inspired by the Jade gemstone
Jade Green Hair Scrunchie Features
Wearing our soft, handmade Jade Green Scrunchie, you won't have to worry about creases, damaging your hair and even headaches most experience with wearing traditional hair ties. Our hand-crafted scrunchies work and look amazing with all hair types, including curly, straight, braided, locks, and wavy hair. We hand-sew all of our scrunchies from high-quality satins or silks. Every scrunchie is unique and we quality check each one to make sure you get the best quality scrunchie on the market.

Features:
A One-of-a-kind Handcrafted Product
Fashionable Jade Green Scrunchie!
Can wrap two to three times around your hair
Friendly to Hair
Elasticized Inner Band
Holds your hair in a protective style
Suitable for All Hair Types
Strong hold for all occasions
Large scrunchie
Holds both thin and thick hair
The Perfect Way To Show School Spirit!
If you are a cheerleader or heading to the game, our scrunchies are perfect to show off your team spirit! This scrunchie is great to match up with your school outfit or uniform and help you make a lasting impression!

Suitable for the Entire Family!
Whether you're buying a scrunchie for your kids, teens, moms, grandmothers, siblings, or yourself, our handmade scrunchies look stunning on everyone!

Relax with Your Hair Up!
Add instant style to your hair with Coyalz Haircare's stylish Jade Green Scrunchie! You can also wear your scrunchie while you sleep! Unlike elastic scrunchies, our satin scrunchies will not rip your hair out when you let it down!

Coyalz Haircare Scrunchies Can Be Worn A

s :
Wristbands
Ponytail

Holders

Braids

Holders
School Spirit Accessories
Costume Accessories

Dreadlocks

Holders
Bun Holders
Cheerleader

Outfit Accessories

Wedding or Bridesmaid accessories

... And Much, Much More!

There Are Countless Ways to Wear Your Jade Green Scrunchie!


Each scrunchie you buy from us has been carefully handcrafted to ensure the highest quality!

Care Instructions: Hand wash in cold water and air dry

Usage: ideal for all hair types

Material: Polyester Satin

Size: Large

Elastic: Measures between 8-9 inches

Origin: Handmade in the USA

Special: For bulk or custom orders, please email us at sales@coyalzhaircare.com


Other Scrunchies You May like If You love This One:

 Bright Blue Scrunchie          Mint Green Scrunchie        Bright Green Scrunchie

Browse All Scrunchies
Order and Shipping Confirmation
You will receive an email confirmation once your order has been successfully placed–it will include your order number. Please make sure your shipping address is correct as we are unable to redirect goods once they are in route to you. We offer our customers the option to insure their order with Route App LLC. for a small fee. This package protection can be elected in the cart before checkout.
International orders - Please check with Route App LLC. to make sure your international order can be covered under their policy. Check out their Route Package Protection Policies
Orders can take 1 to 3 business days to be processed and shipped. Once your order is prepared for shipment you will receive a shipping confirmation email with your tracking information. Tracking is limited on international orders depending on the country. Orders are shipped Monday - Friday excluding holidays.
Where We Ship
We ship to U.S. addresses, Canada and the rest of the world. Unfortunately, we do not ship to PO Boxes/APO/FPO addresses at this time.
Return
Unfortunately we do not accept returns. However, if there is a problem with your item, please do not hesitate to contact us at hello@coyalzhaircare.com to address your concern.