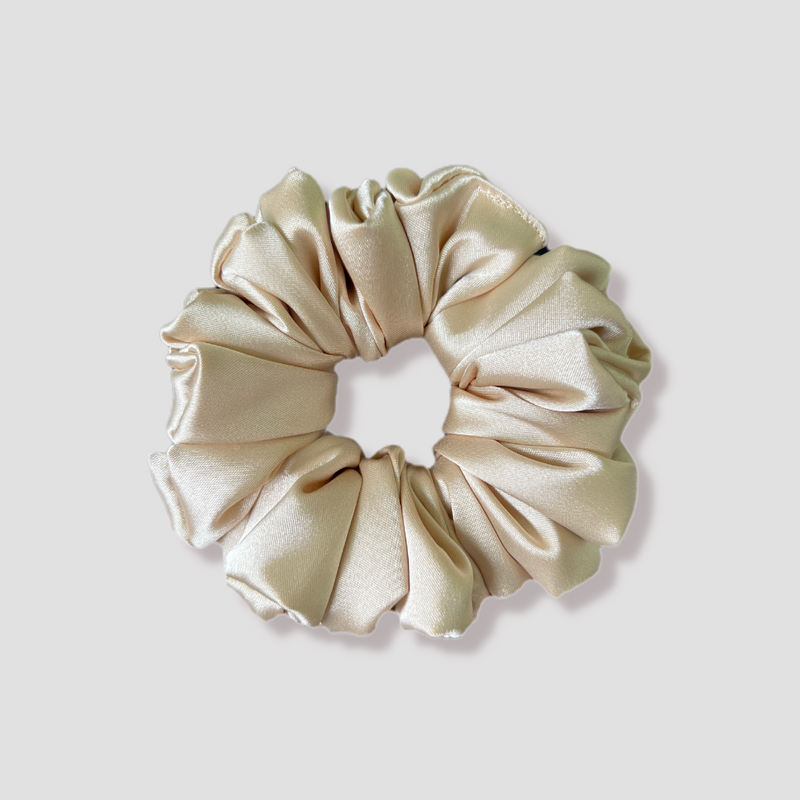 Champagne
In stock
Champagne Scrunchie 
The Champagne Scrunchie is a must-have accessory for anyone looking to add a pop of color to their hairstyles. This vibrant scrunchie is handcrafted with high-quality satin, making it a unique and beautiful accessory that stands out from the rest. The sparkling champagne color will brighten up your look and make you feel confident and stylish. What sets this scrunchie apart from others is its gentle and protective nature. It is designed to be easy on your hair and scalp, ensuring that it won't cause any damage, tangles, or creases.
Whether you have thick, thin, or curly hair, this scrunchie will hold your hair in place with its elasticized inner band. It is perfect for a wide range of occasions, from wearing it to school, to a night out, to a wedding or bridesmaid accessory. With its large size, you can even wear it as a wristband or a ponytail holder.
Fun Fact: This vibrant scrunchie was named after the sparkling champagne color.
Features of the Champagne Scrunchie:
Made of high-quality polyester satin
Measures between 8 and 9 inches in elastic length
Hand-washable and air-dryable
Easy to use and wear
Suitable for all hair types
Does not crease or cause damage to hair
Protects hair against tangles
Elasticized inner band for secure hold
Large scrunchie design
Can be worn in a variety of ways (as a wristband, ponytail holder, braids holder, etc.)
Ideal for all ages
All hair types

Show Your School Spirit with This Champagne Scrunchie!
The Champagne Scrunchie is not only a stylish and colorful addition to your hair accessory collection, but it's also a great way to show your school spirit. Whether you're a student, teacher, or alumni, wearing this vibrant scrunchie can be a fun and unique way to show your support for your school. The sparkling champagne color is sure to catch the eye and make you stand out in a crowd, whether you're wearing it to a sporting event, school assembly, or just a casual day on campus.
This scrunchie is also great for all hair types and is gentle on your hair, so you can wear it all day without any discomfort. With its elasticized inner band, it will securely hold your hair in place and prevent any tangles or creases. Show your school spirit in style with the Champagne Scrunchie!
Great for All Ages!
The Champagne Scrunchie is a versatile accessory that can be worn by people of all ages. Whether you're a school-going student, a working professional, or a retiree, this scrunchie can add a touch of fun and color to your hair. Its sparkling champagne color will bring out the best in your hair, regardless of your age or hair type. Whether you have thick, thin, curly, or straight hair, this scrunchie will hold your hair in place and make you look stylish and confident.

Relax with Your Hair Up!
This scrunchie is designed with comfort in mind, making it the perfect accessory to use when you want to relax with your hair up. Its gentle nature ensures that your hair and scalp are protected, while its elasticized inner band keeps your hair in place. Whether you're taking a nap, going to bed, or just lounging around, you can now keep your hair out of your face and look stylish at the same time.
This scrunchie is ideal for all hair types, making it a versatile and must-have for anyone who likes scrunchies!

Size: Large Elastic Measures between 8 and 9 inches
Origin: Handmade in the USA Special: For bulk or custom orders, please email us at sales@coyalzhaircare.com
Order and Shipping Confirmation
You will receive an email confirmation once your order has been successfully placed–it will include your order number. Please make sure your shipping address is correct as we are unable to redirect goods once they are in route to you. We offer our customers the option to insure their order with Route App LLC. for a small fee. This package protection can be elected in the cart before checkout.
International orders - Please check with Route App LLC. to make sure your international order can be covered under their policy. Check out their Route Package Protection Policies
Orders can take 1 to 3 business days to be processed and shipped. Once your order is prepared for shipment you will receive a shipping confirmation email with your tracking information. Tracking is limited on international orders depending on the country. Orders are shipped Monday - Friday excluding holidays.
Where We Ship
We ship to U.S. addresses, Canada and the rest of the world. Unfortunately, we do not ship to PO Boxes/APO/FPO addresses at this time.
Return
Unfortunately we do not accept returns. However, if there is a problem with your item, please do not hesitate to contact us at hello@coyalzhaircare.com to address your concern.