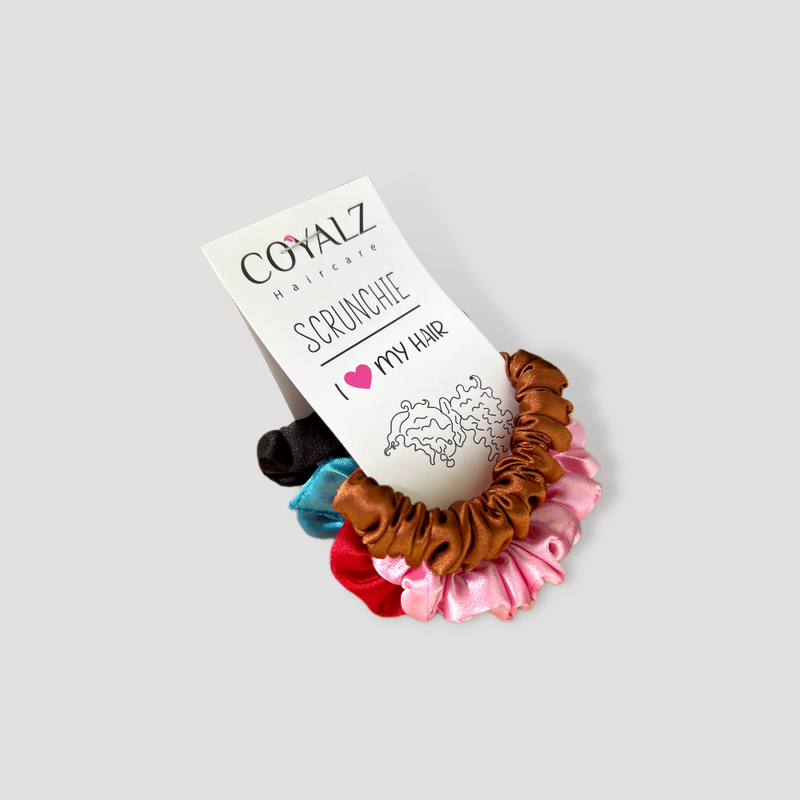 Skinny Pack
Unavailable
Great for a slim ponytail look and for the kiddos!
Don't want a big scrunchie look in your hair? No worries, we've got you covered. This scrunchie pack includes 5 skinny scrunchies in a variety of colors. The colors are at random and are between white, black, blue, pink, red, and brown. These are perfect if you want to have a skinny or thin scrunchie look around your hair much like when you wear a traditional hair band or hair tie, BUT this time around you will be protecting your hair since this pack of scrunchies are still made from satin fabric. So ditch those traditional hair breaking hair ties, and pick up a skinny pack from Coyalz Haircare. 
They hold your hair nicely, giving you a firm but gentle hold. These are great when you need to put your hair up before exercising or heading to the gym. Don't be fooled by their size; they are small but mighty. These skinny satin scrunchies are made with high quality materials and rest assured that your hair will NOT break your scrunchie.
Kids love this size as well for both their hair and their wrists. It's the new fashion, just ask your child!
Size: Skinny/ Extra Small
Material: Satin
Elastic Measures: about 8 inches
Origin: Handmade in the USA
Special: For bulk or custom orders, please email us at sales@coyalzhaircare.com
You may also like our large scrunchie Starter or Neutral Packs:
Order and Shipping Confirmation
You will receive an email confirmation once your order has been successfully placed–it will include your order number. Please make sure your shipping address is correct as we are unable to redirect goods once they are in route to you. We offer our customers the option to insure their order with Route App LLC. for a small fee. This package protection can be elected in the cart before checkout.
International orders - Please check with Route App LLC. to make sure your international order can be covered under their policy. Check out their Route Package Protection Policies
Orders can take 1 to 3 business days to be processed and shipped. Once your order is prepared for shipment you will receive a shipping confirmation email with your tracking information. Tracking is limited on international orders depending on the country. Orders are shipped Monday - Friday excluding holidays.
Where We Ship
We ship to U.S. addresses, Canada and the rest of the world. Unfortunately, we do not ship to PO Boxes/APO/FPO addresses at this time.
Return
Unfortunately we do not accept returns. However, if there is a problem with your item, please do not hesitate to contact us at hello@coyalzhaircare.com to address your concern.